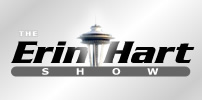 Audio Podcasts

Erin Hart as featured guest host on Colorado's KKZN, Progressive Talk Radio AM760.

March 2009

Jay Marvin Friday 3-13-09 Hour 4
President Barack Obama said Tuesday that American children should go to school longer, either stay later in the day or into the summer, if they're going to have any chance of competing for jobs and paychecks against foreign kids. Are you for or against longer school days? What about performance based pay for teachers? We also talked about the grammar police this hour.
Jay Marvin Friday 3-13-09 Hour 3
It's our new music review with Steve Knopper. This week we check out Kelly Clarkson's All I Ever Wanted, Chris Cornell's Scream and Van Morrison's Astral Weeks Live at the Hollywood Bowl.Steve is a local author who just released the book Appetite for Self Destruction: The Spectacular Crash of the Record Industry in the Digital Age. Steve is also a Rolling Stone contributing editor and a freelancer since January 1996. He has written for such publications as Wired, Esquire, Entertainment Weekly, the Chicago Tribune, and Details. He also has written and edited four books, including The Complete Idiot"s Guide to Starting a Band and Moon Colorado. He is also the former on-air technology correspondent for Fox News Chicago and has appeared as an expert source on CNN, NBC News, MSNBC, WNYC-FM in New York, WXRT-FM in Chicago. Check out his website at www.knopps.comWe then hit open phones! Took calls on the economy, and Erin not liking Van Morrison.
Jay Marvin Friday 3-13-09 Hour 2
We continued playing audio from the John Stewart and Jim Kramer feud. Do you hold guys like Jim Kramer and CNBC responsible for bad financial advice. We talked about the economy. Erin also asked where you are cutting back in this economy?
Jay Marvin Friday 3-13-09 Hour 1
"The Daily Show"'s Jon Stewart interviewed CNBC's Jim Cramer on Thursday night. The half-hour back-and-forth managed to be both incredibly uncomfortable and highly entertaining. After a video introduction that mocked the anticipation of the interview, Stewart began hammering Cramer on his poorly timed financial advice. It only got worse for poor Jim, who looked like a deer in headlights. Stewart repeatedly put Cramer on the spot with clips of the "Mad Money" host in a 2006 interview. In it, the excitable host spoke about manipulating futures trades as a hedge fund manager. Stewart told Cramer that the video made him very angry. We played some audio and took open phones.

Jay Marvin Thursday 3-12-09 Hour 4
Erin is joined by Rabbi Daniel Weiner to talk immigration, economy and stem cell legislation. He received a Masters Degree from the Hebrew Union College-Jewish Institute of Religion in 1989, and was ordained in 1991. Rabbi Weiner served as the Assistant/Associate Rabbi at Baltimore Hebrew Congregation from 1991-1996 and as the Senior Rabbi of Temple Ohev Sholom in Harrisburg, PA. He has a passion for politics, philosophy, history, and music. He has been Senior Rabbi of Temple De Hirsch Sinai in Seattle since July 2001.

Jay Marvin Thursday 3-12-09 Hour 3
Erin is joined by special guest Sam Quinones who is working for the LA Times. He is part of a team doing stories on Mexico's drug war, called Mexico Under Siege. http://projects.latimes.com/mexico-drug-war/#/its-a-war Quinones lived for 10 years in Mexico and covered a lot dealing with mexican immigration and wrote two books True Tales From Another Mexico and Antonio's Gun and Delfino's Dream: True Tales of Mexican Immigration. www.samquinones.comErin then took a half hour of open phones!
Jay Marvin Thursday 3-12-09 Hour 2
We opened playing audio of the wonderful Gary the conservative calling Erin Hart's last hour, the PMS hour. Can you hear the panic in the GOP? Why are they being so outrageous?
Jay Marvin Thursday 3-12-09 Hour 1
Erin Hart in for Jay again today. We had a few classic clips from the right-wing reactionary crazies. First was Glenn Beck trying, and we emphasize trying, to be funny about stem cell research. Then we had audio of Chris Matthews and Ari Fleisher in a drag out fight about Bush's legacy. Lastly, Rush Limbaugh with more on hoping Obama fails. He says if we go to war and Obama is our leader, we will lose. We had a couple of calls from conservatives who went head to head with Erin. This included a man who called this the PMS hour. No joke.

Jay Marvin Wednesday 3-11-09 Hour 4
We continued taking calls on illegal aliens and the possibility of them receiving in-state tuition. Lots of passionate call this hour!
Jay Marvin Wednesday 3-11-09 Hour 3
Rep. Joe Miklosi will carry legislation in the House that would grant in-state tuition rates to illegal immigrants. Miklosi, D-Denver, has agreed to be the House sponsor for Senate Bill 170, sponsored by Sen. Chris Romer, D-Denver. The bill would give the in-state tuition rate to any student who has attended a Colorado high school for three years and graduated, regardless of immigration status. No House member had come forward to sponsor the bill until this week. Our special guest was Senator Chris Romer. We then took listener reaction to the bill!
Jay Marvin Wednesday 3-11-09 Hour 2
On to talk about the state of the economy and the stimulus package was Dr. Christian Weller from the Center for American Progress. Weller is a Senior Fellow at American Progress and an Associate Professor of Public Policy at the University of Massachusetts Boston. He gave his report card on the Obama administration thus far. Erin talked to Christian until 7:30 and then took a couple calls and got our market wrap with Michael Speer.
Jay Marvin Wednesday 3-11-09 Hour 1
Erin Hart from Seattle in for Jay this morning! She opened up talking about the madness in the GOP. Senator Mitch McConnell says Obama and crew trying to turn America into Europe (socialism taunts) and Michael Savage says Obama is a dictator and calls for impeachment. At 6:30 Thom Hartmann joined the fray and hit on hot political news of the week!